Rated Excellent on TrustPilot
Cult Classics
Three iconic soundracks brought together for the first time by VinylBox.
BUY THIS BOX FOR £69 ►
If you're a VinylBox subscriber, check your email for your 10% discount code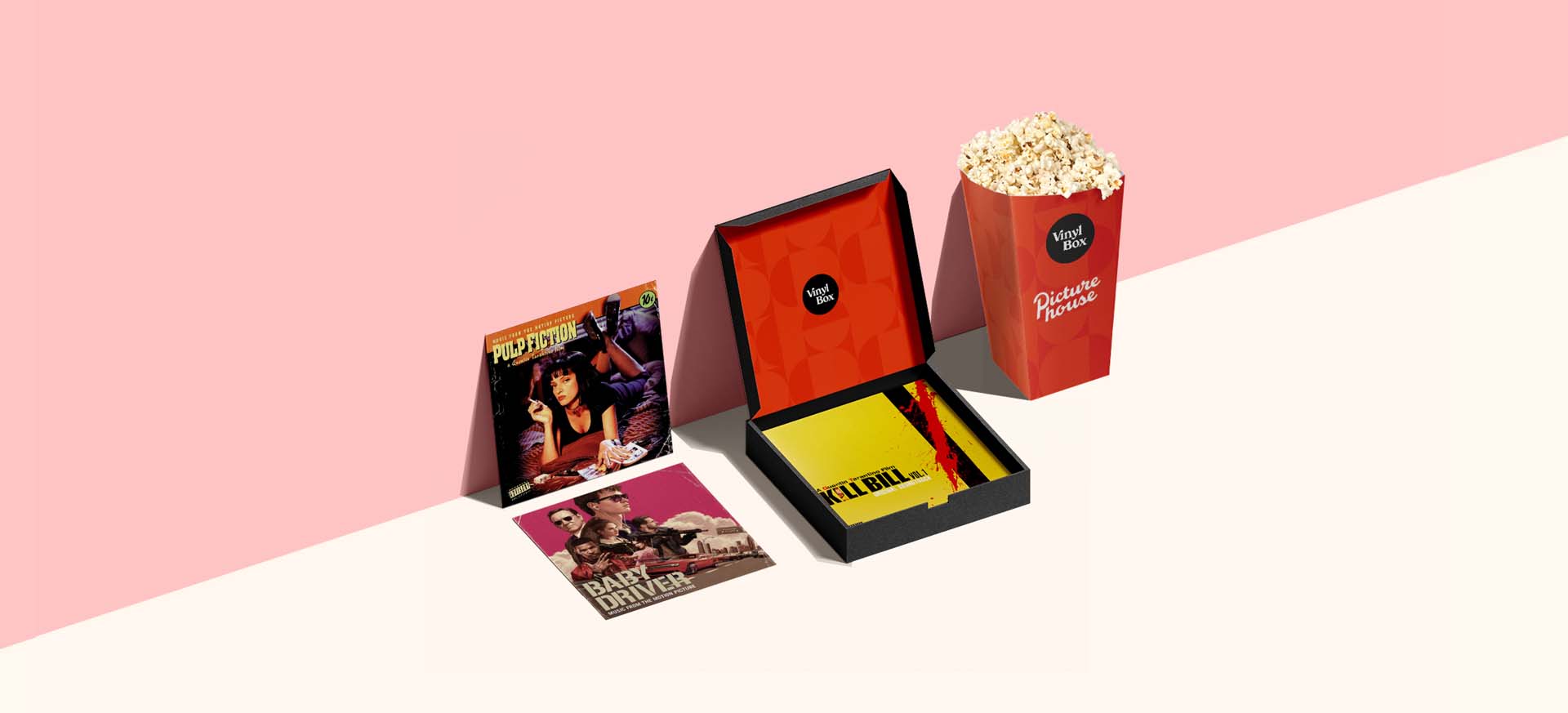 As recommended by:
About this box
This box is a celebration of three truly iconic movie soundtracks, curated in collaboration with Picturehouse Cinemas. From Tarantino's Pulp Fiction and Kill Billl, to the incredible music of 2017's Baby Driver, these soundtracks will leave you on the edge of your seat.
So get ready to drop that needle and immerse yourself in a Night at the Movies - the sound of vinyl that will make the hairs stand up on the back of your neck.
This VinylBox contains a track walk-through sleevenote written by VinylBox and Udiscover - listening notes to guide you through the boxset.
Albums in this box
Kill Bill Volume 1
Various Artists
Baby Driver
Various Artists
Pulp Fiction
Various Artists
BUY THIS BOX FOR £69 ►
If you're a VinylBox subscriber, check your email for your 10% discount code
Kill Bill (Soundtrack)
Various Artists
Tarantino's mind sketched onto the soundtrack for this magnificent album
Considering Tarantino's penchant for the wilfully obscure and talent for dusting off old gems, it's not surprising this overtly eclectic collection makes fascinating listening. Along with the jarring dialogue excerpts, comes delightful gems such as Santa Esmeralda's masterful "Don't Let Me Be Misunderstood". There's the slide guitar-fuelled rockabilly cool of Charlie Feathers' "That Certain Female", Spaghetti Western atmospherics from Luis Bacalov, and Wu Tang Clan rapper RZA belting out "Ode to Oren". Not for the faint eared then, but despite breaking every continuity rule in the book, it makes for marvellous listening.
Tracklist
Bang Bang (My Baby Shot Me Down)
That Certain Female
The Grand Duel (Parte Prima)
Twisted Nerve
Queen of the Crime Council
Ode to O-ren Ishii
Run Fay Run
Green Hornet Theme
Battle Without Honour or Humanity
Don't Let Me Be Misunderstood
Woo Hoo
Crane/White Lightning
The Flower of Carnage
The Lonely Shepherd
You're My Wicked Life
Baby Driver (Soundtrack)
Various Artists
A soundtrack on vinyl to take your breath away
With each song, Wright has incorporated the beats, instruments, music, and lyrics in the actual film's story, where the characters do or say something to every aspect of the music. It's a musical opus in a very Edgar Wright sort of way. Being on vinyl, there is no compression here, but rather a full sound of the highs and lows of every bass note and guitar chord. There is no digital sound here like you would find on an digital, but rather an analog sound on this double LP 180g vinyl that just takes your breath away.
Tracklist
The Jon Spencer Blues Explosion - Bellbottoms
Bob & Earl – Harlem Shuffle
Jonathan Richman & The Modern Lovers - Egyptian Reggae
Googie Rene – Smokey Joe's La La
The Beach Boys – Let's Go Away For Awhile
Carla Thomas – B-A-B-Y
Kashmere Stage Band – Kashmere
The Dave Brubeck Quartet – Unsquare Dance
The Damned – Neat Neat Neat
Commodores – Easy
T. Rex – Debora
Beck – Debra
The Incredible Bongo Band – Bongolia
Detroit Emeralds – Baby Let Me Take You (In My Arms)
Alexis Korner's Blues Incorporated* – Early In The Morning
David McCallum – The Edge
Martha Reeves & The Vandellas – Nowhere To Run
Button Down Brass* – Tequila
Sam & Dave– When Something Is Wrong With My Baby
Brenda Holloway – Every Little Bit Hurts
Blur– Intermission
Focus (2) – Hocus Pocus
Golden Earring – Radar Love
Barry White – Never, Never Gone Give Ya Up
Young MC – Know How
Queen – Brighton Rock
Sky Ferreira – Easy
Simon & Garfunkel – Baby Driver
Kid Koala – "Was He Slow?"
Pulp Fiction
Various Artists
The musical universe of Pulp Fiction is as freewheeling and culturally omnivorous as its screenplay: Here is a quintessential '90s film in which a '70s disco icon dances the twist in a '50s-themed burger joint. Quentin Tarantino approached the score of his film the way skillful rap producers approach sampling, digging up and recontextualizing lost gems from the vinyl era, finding a certain crazed intensity in '60s surf-rock tunes. (In fact, the soundtrack's commercial success briefly reinvigorated surf music's prominence in America.)
Tracklist
Pumpkin And Honey Bunny
Misirlou
Royale With Cheese [Explicit]
Jungle Boogie
Let's Stay Together
Bustin' Surfboards
Lonesome Town
Son Of A Preacher Man
Zed's Dead Baby
Bullwinkle (Pt. II)
Jack Rabbit Slims Twist Contest
You Never Can Tell
Girl, You'll Be A Woman Soon
If Love Is A Red Dress (Hang Me In Rags)
Bring Out The Gimp
Comanche
Flowers On The Wall
Personality Goes A Long Way [Explicit] Surf Rider
Ezekiel 25:17
Choosing a selection results in a full page refresh.
Press the space key then arrow keys to make a selection.
Become a founder member
Receive 3 handpicked albums every month. Skip, pause or cancel anytime.
We're excited to launch our subscription service, so we're offering great discounted prices and exclusive founder member perks when you sign up before June 13th. Skip, pause, cancel anytime.